It's been too long since I have talked about the NHL playoffs. Not having time to write really sucks. I have pretty much missed most of the second round. Edmonton has been doing well. Florida is out. Things have been crazy.
Colorado Avalanche vs St Louis Blues. It's not a shock that St Louis is down in the series 3-1. In the only game happening tonight the Avalanche could eliminate the Blues. Honestly out of all four series I haven't been paying too much attention to this one. Out of all the series I have seen the least of this series pop up on my social media. Colorado will probably win tonight and win the series.
Florida Panthers vs Tampa Bay Lightning. The Lightning swept the Panthers. The Panthers are out. The team with the best regular season record couldn't win one game in this series. I head that the Panthers were even out at 3am parting leading up to game four. That doesn't really make a lot of sense. Anyway it's the end of the Panthers season. I think they will be back. I think they will have success in the near future.
Edmonton Oilers vs Calgary Flames. This one has been a lop sided series. There has been plenty of action. Both teams have scored a lot. Evander Kane got a hat trick for Edmonton the other night. It's funny how he was ran out of San Jose and is now close to reaching the western conference final. Edmonton only has to win one more game and I think they can do it. I would expect the Flames to get more aggressive if it looks like they are going to lose the series. Towards the end I think the Flames will stop playing just start fighting. It's a rivalry series and they are going to be mad they lost.
New York Rangers vs Carolina Hurricanes. The series is tied at 2-2. It's anyones series to win now. I want the Hurricanes to win. They might not but still. It's been a close series between these two. Either team could take the advantage in the next game.
Current Bracket: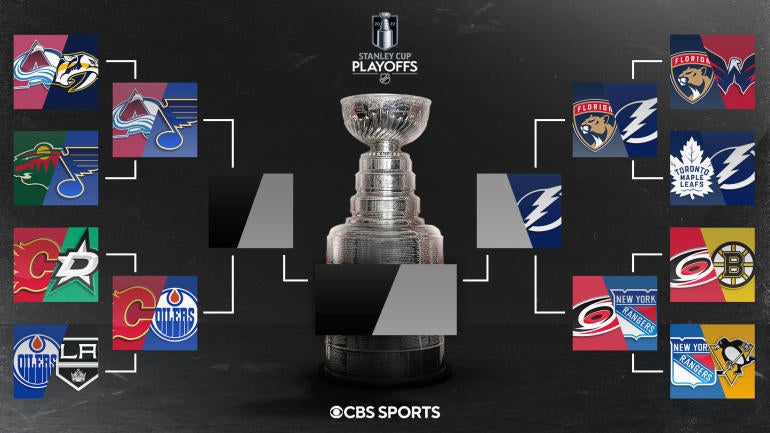 The Calgary Flames, Carolina Hurricanes, Colorado Avalanche, Edmonton Oilers, Florida Panthers, New York Rangers, St Louis Blues, and Tampa Bay Lightning have advanced to the second round. The Tampa Bay Lightning have advanced to the third round.
The Boston Bruins, Dallas Stars, LA Kings, Minnesota Wild, Nashville Predators, Pittsburgh Penguins, Toronto Maple Leafs, and Washington Capitals have been eliminated in the first round. The Florida Panthers have been eliminated in the second round.
Here are the upcoming games:
I think Florida will beat Tampa Bay in 6 or 7 games. I think Colorado will sweep the St Louis.